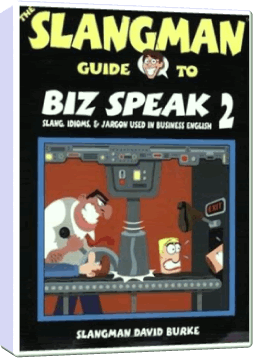 Slangman Guide to BIZ SPEAK 2
Slang and Idioms Used in Business English
Book | Audio
The Slangman Guide to Biz Speak uses entertaining dialogues in the beginning of each chapter to demonstrate the new terms in a fun, lively, and useful way. These guides focus on not only what people speak, but how they speak in the business world. Even in business,everyone uses common contractions and reductions that you need to know in order to understand important meetings,negotiations, business conversations, etc.

[note color=#F3FDFF]This edition is in a larger,more user-friendly and entertaining format with hundreds of illustrations per book.They have been expanded to include reading, writing, listening, and speaking exercises as well as more synonyms, antonyms,and variations than ever before.
[/note]
wordpress gallery and slideshow plugin
[note color=#F3FDFF]Biz Speak 2 presents chapters on:
• More everyday workplace slang & idioms
• Slang & idioms used in international trade
• Shipping slang and jargon
• The newest terms used in globalization
• Sports terms used in business
• Business travel slan
• Business proverbs
• "Bureaucratese"[/note]
Terms of Use
and that Onlineenglish4u-English Matters holds no responsibility for any content provided by a third-party server. You also agree to use the content materials you find solely for personal review purposes and to purchase the original/hardcopy from the publishers or its affiliates.
---
Don't be confused or embarrassed when doing business with Americans! Entertaining dialogues, activities, and games will help you understand the real language spoken in American businesses. The Slangman Guide to Biz Speak books are so popular, they are being used by business professionals around the world.
Our books contain the most common slang and idioms used every day by Americans. Look at this example:
English taught in schools: "My plane leaves New York late at night and arrives in Paris early the next morning."
Real American English: "I am taking a red-eye from New York to Paris."
Both of them mean the same thing, but "Real American English" is the way Americans speak. With our books, you will learn American English conversation using slang and idioms naturally through dialogues, pictures, quizzes, games, etc. You'll be talking like a native "in no time" (very quickly)!
This book includes Business expressions dealing with: Politics, Shipping, Travel, The Stock Market, Globalization, and more...
This book was written by American native and slang expert Slangman David Burke, author of more than 24 books on slang and idioms. SLANGMAN will make sure that you're never "thrown a curve" (that's business slang for "surprised").
There are no "dirty" or impolite expressions in this book. For the best results, purchase the audio CDs or cassettes!
---
Now you can hear how natives speak! Because Americans shorten and combine words when they speak in everyday conversations, understanding them can be extremely difficult...but there is help!
You need to know how English really sounds and get used to the speed!
Each audio product contains "real speak" versions of the dialogues and vocabulary. "Real speak" features the shortened or "real" pronunciation Americans use every day. If you want to feel comfortable speaking with Americans and understanding conversations in English, these audio products are essential.
Listen to these audio products and you will be ready to hear English, understand English, and use English!
SLANGMAN has created an audio program for each book, which helps you say each word just like an American!
Cassettes also available.
See why so many ESL students around the world love The Slangman Guide to Street Speak series!
The book was written by American native and slang expert Slangman David Burke, author of more than 24 books on slang and idioms.