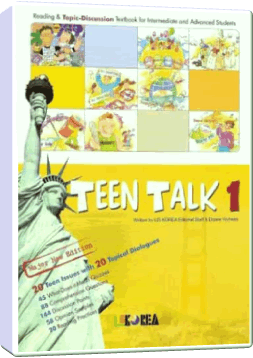 Teen Talk 1
Reading & Topic-Discussion Textbook for Intermediate and Advanced Students
Book
Teen Talk is a Korean EFL reading & topic-discussion textboook for intermediate and advanced students. The book is a great source for any conversational class with challenging topics, vocabulary, short reading passage, comprehension exercises and follow-up questions and opinions excellent for discussion and debate. Various topics of the book will help the students improve their speaking ability in real situation.
wordpress gallery and slideshow plugin
Terms of Use
and that Onlineenglish4u-English Matters holds no responsibility for any content provided by a third-party server. You also agree to use the content materials you find solely for personal review purposes and to purchase the original/hardcopy from the publishers or its affiliates.