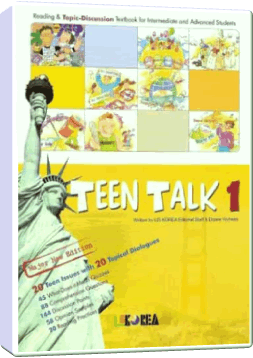 Teen Talk 1
Reading & Topic-Discussion Textbook for Intermediate and Advanced Students
Book
Teen Talk is a Korean EFL reading & topic-discussion textboook for intermediate and advanced students. The book is a great source for any conversational class with challenging topics, vocabulary, short reading passage, comprehension exercises and follow-up questions and opinions excellent for discussion and debate. Various topics of the book will help the students improve their speaking ability in real situation.
wordpress gallery and slideshow plugin
None of the files shown here are hosted on this server. The contents of the posts are for educational purposes and SHOULD BE VIEWED ONLY. If you download any files to view them, you are agreeing to delete them within a 24 hour period. If you are a copyright owner, please contact us and we will be happy to remove the link.