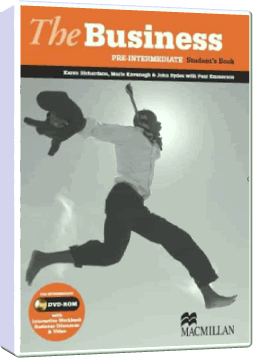 The Business Pre-Intermediate
Book Only
The Business is a multi-level business English course which offers the student a cutting-edge blend of electronic and print material. The syllabus is organized by topic and has been developed from detailed research into business-related degree courses in leading European institutions. The Pre-Intermediate level of The Business covers such topics as Living Abroad, Success Stories, Going Global and The Stock Markets.

[note color=#F3FDFF]The Business is particularly suitable for students studying business at college or university, but the course will also appeal to working business people who need to enrich their vocabulary and express themselves more authoritatively beyond their immediate professional context.
[/note]
wordpress gallery and slideshow plugin
[note color=#F3FDFF]Key Features:
• Full writing module and a case study per unit
• Speaking sections cover all relevant business communication skills such as giving presentations, handling negotiations and chairing meetings
• Internet research boxes provide a context for extra study
• Student's Book wordlist, grammar reference, and extensive grammar and vocabulary practice material[/note]
Terms of Use
and that Onlineenglish4u-English Matters holds no responsibility for any content provided by a third-party server. You also agree to use the content materials you find solely for personal review purposes and to purchase the original/hardcopy from the publishers or its affiliates.